River Cruising in India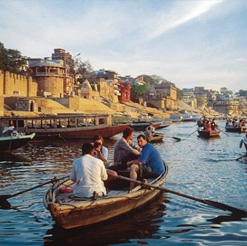 India is now emerging as a prime location for river cruises on board luxury vessels. A sublime journey through the lifeline rivers of India offer you a totally different perspective of the country. These are incredibly unique and spellbinding experiences - close encounters with the nature and history of the land, with a kaleidoscope of cultural and religious highlights to kindle your imagination. The great civilizations of the land originated along the historically important rivers and later developed into great towns and renowned ports which served as cultural hubs for centuries. It is an artistical blend of cultural diversity, heritage and legacies, breathtaking landscapes and stunning geography. A river cruise lets you behold all these like a masterpiece tapestry, intricately woven by seamless blend of the past and the present. A cruise along the inland waterways of the great rivers of India lets you experience the tranquil local life in its slow pace, beating to a gentle rhythm and also presents opportunities for exploration of the land.
WHY RIVER CRUISING IN INDIA?
There's a myriad of reasons why river cruising is immensely popular in India - a country renowned for its overwhelming vibrancy and immense size. India seems truly tailor-made for this kind of travel: from the leisurely speed to the ability to get off the beaten-trail and explore more remote locations, river cruising offers unrivalled benefits for curious travellers who want to squeeze as much as possible from their journeys. In India, this comes with an idyllic combination of luxury, comfort, safety and drastically reduced travel-times, where the journey begins the moment your foot hits the gang-plank and doesn't stop for a second, until you disembark. India is also a very special cruising destination because it's a country whose geography and culture has been literally shaped by its mighty rivers, held sacred by its people for aeons. A stunning nation of immense natural beauty, India is a wildlife and wilderness lover's dream, although you'd be hard-pressed to get a sense of that by only staying in cities and towns. Take to the water instead and you'll experience facets of India most people don't even know exists, where it is Nature and not man that reigns supreme.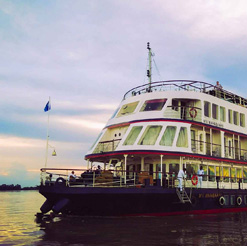 River cruising offers a more authentic and varied experience in India, away from the maddening crowds of the major cities and right into the heart of its UNESCO-listed wildlife reserves, its charming farming and fishing villages and its most revered historical and cultural sites.Abounding cultural experiences, culinary delights and outstanding architecture - amid all the natural gorgeousness – are India's best calling cards and on a river cruise boat you get to experience it all, in sublime comfort and luxury.
WHERE CAN YOU RIVER CRUISE IN INDIA?
The majestic Brahmaputra and the sacred Ganges are the most important and historically significant rivers in India that offer the best river cruising experiences. Along these rivers is witnessed rich flora and fauna. From wildlife, tea gardens and beaches to forests, creeks and a rich cultural heritage, there is something for everyone. The diversity of languages, customs, lifestyle and vegetation, from one city to another, is fascinating and a lesson in history in itself!
The Ganges in the north , the sacred river embedded in mythology is believed to be the oldest in India, and is revered by millions of people all over the world. It originates in the Himalayas and is the starting point for many luxury river cruises. Ganga and its tributaries offer a range of landscapes, from distant mountains, the Gangetic plains and the religious ghats of Varanasi to the colonial buildings alongside the Hoogly (Ganges in Bengal) in Kolkata.
The Brahmaputra in the east, said to be one of the most vibrant of rivers, offers some of the most thrilling cruising experiences as it makes its way through Assam. A cruise over the mighty Brahmaputra River will immerse you in the dreamy landscapes that surround the river. You will take a jo urney of magical Assam, with elephant and jeep safaris, spotting the rare one-horned rhinos at Kaziranga National Park. You will visit the ruins of the Ahom kingdom, the quaint Mishing village, and the Neo-Vaisnavite monasteries of Majuli Island..
CRUISE THE GANGES RIVER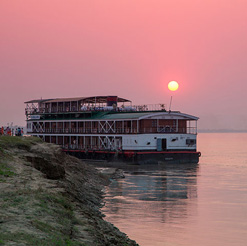 India's longest river is its most sacred lifeline, holding tremendous religious and spiritual significance and shorelines that offer wonderful highlights. Beloved for the impressive array of temples, mosques and villages built along its shores, the Ganges is an alluring, eye-opening and spectacular river to cruise. Given its length and sheer number of attractions, Ganges river-cruises in India are offered in two sections.
LOWER GANGES RIVER CRUISES
Lower Ganges – a destination that's perfect if you love an abundance of culture, history and architecture on your travel adventures. Visit the 16th-century French colony site of Chandannagar, the prominent Islamic site of Imambara, famous terracotta temples of Kalna, the Hazarduari Palace and a host of authentic villages along the way, each one unique and enticing in its own way. Our 8-day Lower Ganges Cruise gives you a fabulous overview of where you'll go and what you'll see.
UPPER GANGES RIVER CRUISES
On the Upper Ganges section, you can cruise from Kolkata to Varanasi over two sensational weeks, visiting such prestigious sites as the Hazarduari Palace, Katra Mosque and Shiva Temple, cruising through historic locks and stopping by revered Buddhist site of Vikramshila, the Mughal Fort at Munger, the stunning archaeological site of Nalanda, before finally reaching Varanasi, the reputed oldest inhabited city on earth and the holiest Hindu mecca of all. See our 15-day Upper Granges Cruise and get a taste of all you'll experience on this stretch of the Ganges.Having Kolkata as a springboard for cruises along the Ganges certainly adds plenty of appeal, with options of overland touring with Get About Asia enticing guests to extend their travels beyond their Ganges river cruise, whether cruising the Lower or Upper Ganges. All cruise itineraries offer plenty of time on land, with daily excursions and sightseeing tours.
CRUISE THE BRAHMAPUTRA RIVER
Cruising the Brahmaputra is a very different experience to cruising the Ganges and takes guests on a whirlwind journey through the wildest corners of Assam, a province of India that's home to two stupendous wildlife-enriched national parks, both of which are UNESCO heritage-listed. On a cruise along the Brahmaputra, you'll still have plenty of historic and cultural sites to visit (from silk-weaving villages to prominent temples and mosques) but will also experience wildlife safaris in search of endangered Indian One-horned Rhino, wild elephants and a flurry of unique birds.For wildlife-lovers who want it all, when visiting India, a Brahmaputra River cruise including safaris in both Manas and Kaziranga National Parks, is simply unparalleled. See details of our 8-day Brahmaputra River – Wild Assam itinerary.
All the boats on the Ganges and Brahmaputra are luxuriously outfitted – many rekindling the days of colonial splendour. Pandaw vessels are particularly charming to boot, showcasing stunning décor, design, comfort and functionality whilst boasting shallow drafts to get you exploring furtherwhere larger vessels can't go. Every small ship reflects the country's heritage and cultural history and Pandaw river cruise boats are renowned for being immensely beautiful. All the while you get pampered in the comfort of on board luxury.
M V MAHABAHU is another cruise which operates on similar lines . For more details ...
2. Brahmaputra River Cruise
4. River Ganga Cruise
Book This Trip


Back